Power Points and Light Switches
Power points and light switches are something you use everyday. It's not until they go wrong that you find they are an integral part of your life.
Whether you need a faulty power point or light switch replaced, or need extra power points installed, our electricians are here to meet your needs.
Do you want to save money by installing energy efficient LED Lights? 
Are you thinking about installing Floodlights as a security measure?
Our electricians can advise and install the lighting you need.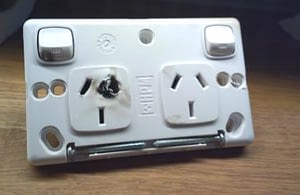 Example of faulty power point and light switch.
Power points and light switches are there for our convenience, but a faulty power point or light switch, can be a fire hazard.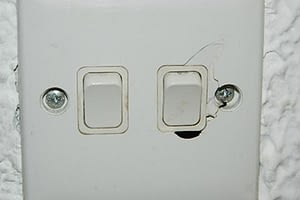 Many homes do not have enough power points. This is especially true in rooms such as the kitchen and TV room, which have many appliances dependent on having a power point. In addition, older homes often have only a single outlet per power point, limiting the amount of appliances that can be plugged in at any time.
Whether you need to upgrade single power points to doubles, or install completely new power points, Townsville Titan Security & Electrical will work with you to make sure you have  power points in the correct places in your home. After installation, all power points have safety checks.
One of the fastest and most affordable cosmetic upgrades to your home is to replace power points with a modern look. Installing extra power points adds versatility and eliminates having to use power boards.
We will respond to your call within 48 hours.
On time every time, or a 10% discount on your next job. (or you can transfer the discount to a family member).